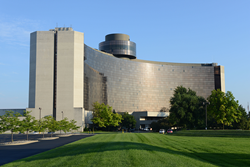 Dearborn, MI (PRWEB) June 17, 2015
Savills Studleys U.S. Capital Markets Hotel Group, as exclusive agent for the owner, is pleased to offer for sale the fee simple interest in the 773-room Royal Dearborn, Hotel and Convention Center located at 600 Town Center Drive in Dearborn, Michigan. Situated on over 32 acres of land, the 854,000 square-foot building stands across the street from the Ford Motor Company World Headquarters and is 15 minutes away from Detroit Metro Airport and downtown Detroit.
The Hotel features 773 guestrooms including 27 oversized suites making it the second-largest hotel in Michigan. The Property boasts approximately 55,602 square feet of functional meeting and exhibition space comprised of a 17,000 square foot grand ballroom, a rotunda and numerous flexible meeting and break out rooms. The Hotel also offers two food and beverage outlets, an indoor swimming pool and fitness center, business center, gift shop and expansive outdoor parking.
This represents a unique opportunity to invest in a major hotel asset free of debt, brand and management. There are numerous repositioning options for the property, including splitting the asset into two smaller hotels or even reducing the size of the hotel component by converting the top floors to residential use and transforming parts of ground-level space into retail, said Marc Magazine, executive managing director of Savills Studleys U.S. Capital Markets Hotel Group.
The Hotel is located amid significant demand generators, including Ford Motor Company World Headquarters, TPC Golf Course, Oakwood Health System, Henry Ford Museum, Henry Ford Community College and University of Michigan Dearborn.
For more information regarding this opportunity, please call Marc Magazine at 571.282.2803 or email at mmagazine(at)savills-studley(dot)com.
About Savills Studley
Savills Studley provides strategic real estate solutions to organizations across all industries. The firms comprehensive commercial real estate platform includes brokerage, project management, capital markets, consulting and corporate services. With 27 offices in the U.S. and a heritage of innovation, Savills Studley is well known for tenacious client advocacy and exceptional service.
The firm is part of London-headquartered Savills plc, the premier global real estate service provider with over 27,000 professionals and over 600 locations around the world. Savills plc is listed on the London Stock Exchange (SVS.L).
For more information, please visit http://www.savills-studley.com and follow us on Twitter @SavillsStudley and LinkedIn.