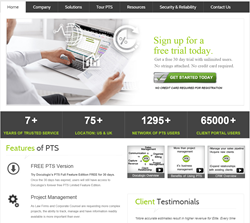 Rockwall, TX (PRWEB) May 13, 2015
On April 27, 2015, the first user group meeting was held for Doculogix Project Tracking System (PTS) software, which is the leading software designed specifically for the litigation support industry. This first of a kind user group meeting, sponsored by Doculogix, took place prior to the Ipro Kickoff Party at the Ipro Innovations Conference at Talking Stick Resort in Scottsdale, Arizona.
The agenda for the First Doculogix PTS User Group Meeting consisted of several important points including a review of features released in the past 6 months, a look at features of upcoming releases for the purpose of gathering feedback, and a detailed review of new features scheduled for the May 2015 release, which includes a totally revamped client portal.
Additionally, the First Doculogix PTS User Group Meeting highlighted a range of important new functionality including:
-The ability to link to multiple PTS vendors within one view and one set of log in credentials

-A look at the reworked job progress view

-The option to send a project request to the PTS vendor straight from the client portal and track the status of each request

-The ability of users to now attach electronic files and documents to a request instead of sending them in a separate email

-A client loyalty program that allows clients to receive airline and hotel points of their choice based on the dollars spent with a particular vendor
Doculogix Owner and President Terry Vaughan stated, Users in attendance were able to see what we currently have to offer and how it is consistently improving to meet users needs. Getting customer feedback is invaluable. Through this meeting, users were able to learn more about the flexible and innovative solutions that we provide and contribute their ideas, comments and suggestions as well.
Those on hand for the meeting were shown an array of exciting new future features including a chat module designed to allow conversations to happen via an IM system, a look at the new project job boards which facilitates easier visualization of project assignments, a file transfer system for the exchange of large amounts of data, a national network program that will work inside the new client portal and new PayPal integration.
Those looking to learn more about where Doculogix PTS is today and where it will be tomorrow found this meeting to be uniquely informative and helpful.
About Doculogix

Doculogix, Inc. offers the worlds only commercially available software designed and developed specifically for the litigation support industry. Through Doculogixs Project Tracking System (PTS), it is possible for those in the litigation support industry to have real-time project management. This invaluable tool serves to streamline workflow and improves profitability for every project and for every client. Learn more about PTS by visiting http://doculogix.com.